What is an SSL Certificate?
SSL certificate creates trust while establishing a secured connection. The establishment of a trustworthy environment where potential clients feel comfortable making purchases is one of the most crucial elements of an internet company. By providing a secure connection, SSL certificates build a base of trust. An SSL certificate displays the public key, the issuer of the certificate, and any associated subdomains. This data is essential for determining the owner of a website and for SSL/TLS encryption of online traffic.
A certificate serves as the equal of an electronic "passport" when doing business online, proving the legitimacy of the online business. A web user first must acquire the server's SSL certificate through their browser in order to establish a safe connection and send secret data to the Web server.
The following details are included in an SSL certificate:
Name of a certificate holder.
The serial number and the date of expiration of the certificate.
A duplicate of the public key of the certificate holder.
A certificate issuing authority's digital signature.
How to get an HTTPS certificate?
Browsers apply the Hypertext Transfer Protocol (HTTP) set of rules to choose how to read and send data across the internet. The browser learns to use this protocol to successfully load a web page when a URL contains the character "HTTP".
You must have an SSL or TLS certificate installed on your website to use HTTPS with your domain name. HTTPS security may be available via your web host (web hosting provider), or you can get an SSL/TLS certificate from Certificate Authorities and install it on your own. It could be important to renew SSL/TLS certificates on a regular basis.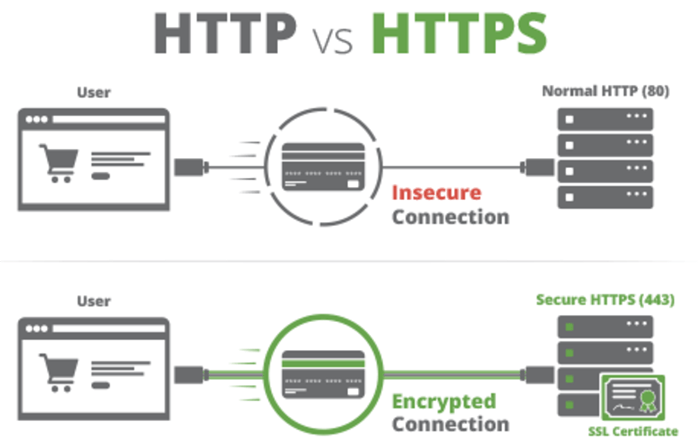 Each type of web server has a unique procedure for setting up and maintaining SSL/TLS certificates. To install and update your certificate, you must find out which web host your website is running on and follow its instructions.
Why is an SSL certificate required for websites?
Do you own a website and want to know why it is important to get an SSL certificate for your website, then you must read this blog till the end.
An SSL certificate is required for a website to protect user information, confirm the site's ownership, stop hackers from building a false version of the website, and win over users.
Encryption:
The pairing of private and public keys made possible by SSL certificates allows for SSL/TLS encryption. Users (like web browsers) can obtain the public key needed to create a TLS connection from a server via its SSL certificate.
Authentication:
A client's communication with the proper server, that is the legitimate domain owner, is verified by an SSL certificate.
HTTPS:
An HTTPS website address must have an SSL certificate, which is crucial for businesses.
The secure version of HTTP is HTTPS, and HTTPS sites are those whose traffic is SSL/TLS encrypted.

HTTPS boosts user trust in websites while also protecting user data while it is in transit. Although most people won't be able to recognize the difference between a website's http:// and https:// addresses, most browsers prominently mark HTTP URLs as "not secure" to encourage users to migrate to HTTPS and improve security.
You might be thinking about how to get an SSL certificate for a website. Follow the procedures below to obtain SSL certificate.
Steps to Get an SSL Certificate on the Hosting Side
Although installing an SSL certificate might not take much of your time, the benefits to your website and its users could be tremendous. Here, we take you through how to safeguard your website quickly.
1) Select a Hosting for Your Website
Bestarhost is a reputable web host in the market and has affordable packages.

2) Select a hosting package
You've decided on the kind of hosting you want at this point. The subscription plan should be chosen as the next step.
Since you are just starting, I'm going to guess that you would choose the shared hosting package.
You have three plan choices, with monthly rates beginning at $2.49.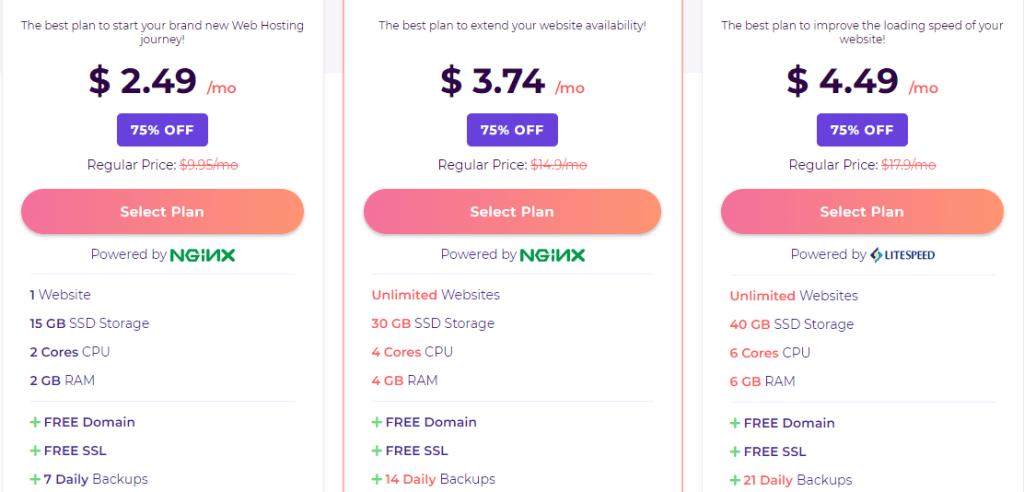 Every plan comes with a free SSL certificate, as seen in the snapshot above. So it's not like your alternatives are limited; attempt to choose the one that best satisfies your needs.
Do you know what you want? Wonderful, now select to proceed.
3) Purchasing a Domain Name
In addition to providing you with a free domain for the first year, Bestarhost does so as well.
As soon as you submit a suitable domain name, Bestarhost will prompt you to set up your domain by checking its availability. Make sure to search for.com variants because they will give your website a more credible and professional appearance.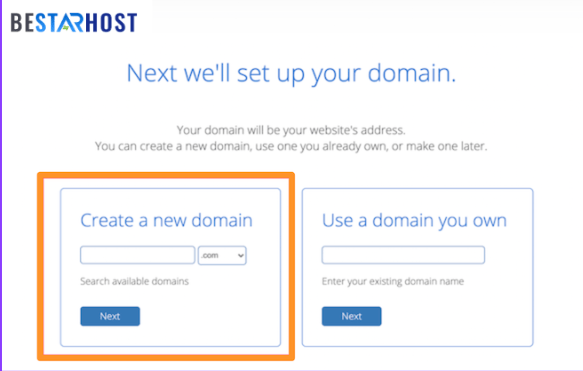 Use a domain you own by entering it in the second column if you already have one from somewhere else.
Don't worry if you haven't come up with any domain name suggestions yet. You can postpone creating your domain and skip to the next step.
4) Enter Your Account Information
The next step is to open a Bluehost account. You'll need to provide some basic information about yourself or your company. The following is included in this:
First Name,
First Name,
Name of the company
Address
Contact information
Email Address
The entire process is relatively simple and will be finished in a few minutes.
5) Choose Your Plan Conditions and Complete Your Payment Information
To obtain the best bargain, I suggest joining up for the 36-month plan. At first glance, this may appear to be a significant commitment, but trust me—well it's worth it. Furthermore, why not take advantage of the best offer when it comes along?
Still, you may choose from the 24-month or 12-month options if 36 months seems like too much of a commitment.
Without selecting or checking any boxes, you may notice under Bundle Information that Let's Encrypt SSL has been automatically applied to your package.
6) Setup of SSL Certificate
You will receive an email with instructions on how to obtain your SSL certificate after the CA has completed processing your SSL certificate request. As an alternative, you can get it by logging into the registered user you made when you bought the certificate.
The operating system (OS) of the web server hosting your website determines how an SSL certificate is installed. For further information on this, speak with your web host or see whether it has posted installation instructions online.
This is how you can get a security certificate for the website.